Sketches for a sketch evening
Sketches encourage creativity and are good for the laughing muscles. The sketches presented here usually quick to study and are therefore easy to introduce in the next group session or on the next parent's evening.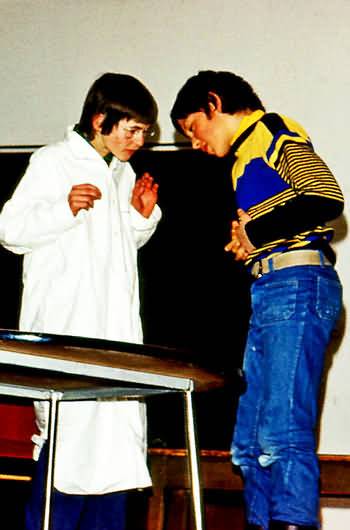 © www.games4youthgroups.com
Hardly anything is as effective and beneficial to the unity within a group as well as to trust each other, as to laugh together. How do you laugh the easiest? When individual team members show others funny sketches. Such presentations can take up an entire evening program. You will be surprised at how fun and entertaining such a sketch night can be.
Why is laughing so good?
It is medically and psychologically proven that laughter one hand trains countless muscles in the body, and on the other hand, releases an armada of various endorphins into the body. The perfect method to be permanently happy. This applies in particular for groups because laughter is contagious and thus ensures the whole team has a lot of fun.
What is a Sketch?
A Sketch is a mock joke, so to speak, a little drama, like a scene a movie. The sketch will be rehearsed by the protagonists and then presented in front of the whole group. The beauty of it is: Both the actor and the audience alike have fun. Ideally, the combination of players and audience always changes as part of a sketch night. In other words, every participant is once actor and once bystander.
Sketches are ideal for groups whose members may behave a little shy towards others or one another. By taking on an unknown role, you do not have to disclose your entire personality at once while at the same time showing what great achievements you are capable of. Since sketches always represent short plays, nobody feels overwhelmed. The few dialogues are usually internalized within a short time. It should be ensured at any stage, that the sketches are always kept neutral so that they are not at the expense of other group members. Therefore, the topics should always be selected in a way that each group member can laugh about it without restriction. Obviously, for this reason, you should avoid topics which could be embarrassing or are overwhelming to individuals. This way, everyone has maximum fun!
---
Sketches for camp or a parent's evening
[ © www.games4youthgroups.com ]