Water games
Water games: whether at sea, in the pool or indoor swimming pool - games on or in the water, always excite kids. Especially in the summer when the weather is warm water games, are a major programme fixture.

© www.games4youthgroups.com
Which child does not like to play the water or in the ocean? No wonder that water games are still among the most popular children's and youth games around. Whether at the lake, the pool, the pool in the garden or on the sea - water games offer, especially on hot summer days, a welcome refreshment; they are varied and full of action.
Water games also have many other positive effects: Participants learn how to behave in an element for which man is not made. It has been proven that children who had contact with water early on in life have fewer problems later in life. For example, when learning to swim. In addition, water promotes a natural movement of the body. Joints, ligaments and tendons are trained much gentler in the water, then during exercise on land.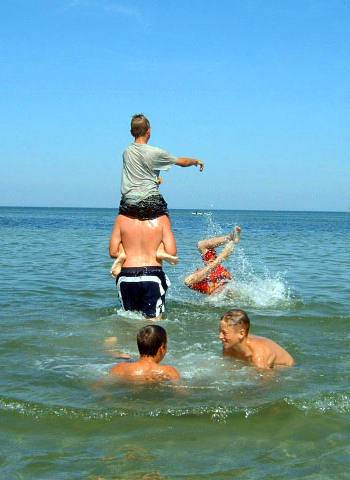 © www.games4youthgroups.com
Also, water games are also extremely helpful to teach coordination to children. Movements in the water are different from the movements outside the water. E.g.: we need more strength and planning ahead of movements.
There are countless different water games, which can be used. For some of them, you will need accessories; others can be played without any materials. It is advisable for the youth worker always to take great care that children who cannot swim or feel insecure around the water are also involved.
In general, safety is crucial when it comes to playing in the water. Participants should be supervised at all times and it is important to ensure that no one ventures too far away from the rest of the group. When playing at the sea, it is important that nobody leaves the protected banks area. Also, the ocean floor plays an important role and is an essential prerequisite so that water games can bring full enjoyment. Preferably, it should always be free of sharp objects, such as stones or shells. Likewise, it should be ensured that the participants do not cool down in the water. Even on hot summer days, the stay in the water, particularly in the ocean, can lead to colds, even you do not notice that at the time.
---
Water games | Games in the swimming pool or lake
[ © www.games4youthgroups.com ]