Cooperation Games

© www.games4youthgroups.com
Some cooperation games, as well as communication games, as the name already says, are games to encourage cooperation. Whether communication games or coordination games are played with the youth group, all have one thing in common: The cooperation within the team is important, so that the whole team reaches its destination. If a group is able to communicate well with each other, to coordinate properly and everyone behaves cooperatively, then the youth group will grow and become capable of a real teamwork.
Cooperation means to cooperate with other people towards a common goal. Who does not learn that in childhood, will have it much harder later in life.
To promote the cooperation of the group members, all games are appropriate where the participants have to rely on each other or where they are dependent on each other. The best example of this is the relay race from the field of sports. Only if there is genuine cooperation and all participants are matched well together, they ultimately will reach the desired success.
What should I look out for?
It is important to make sure that the cooperation of the group members is divided equally. That means everyone should take on one passive and one active role within the team. The one who holds the active role also has the say. In other words, he is the one, telling the others what to do. The passive role is designed so that the group members carry out the instructions and thus cooperate with the active part.
Why is cooperation so crucial?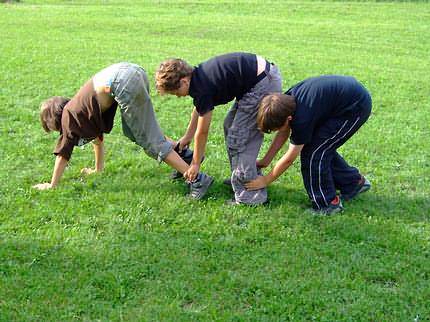 © www.games4youthgroups.com
Especially later in your professional life, almost nothing goes without a degree of collaboration. Only when all employees within a company or a department pull together, a relevant target can be achieved.
But of course, cooperation can also be a lot of fun. Sports games are predestined for that. For example, think of outdoor games in summer or even water games at the lake or the sea.
---
[ © www.games4youthgroups.com ]