Games to catch - Catching Games
Catching games and amusing games with water are particularly easy and quick to make feasible. Games in water should be given a higher level of attention to safety. The water games were placed in a separate category because of their amount.
What are catching games?
Catching and being caught are among the oldest games by and for children. Compared to other games, catching games have many benefits. Virtually, they can be played everywhere - in the gym, outdoors, in the group room, etc. Also, no equipment is required for this and the kids can organize the game themselves.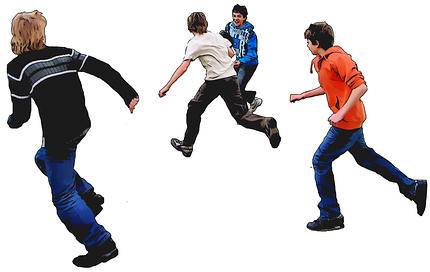 © www.games4youthgroups.com
There is probably no adult who would deny having played Catch Me and not having enjoyed it as well. The reasons are manifold: It's the thrill, which accounts for a large part of the fun of the games. Does he get me or not? That is the key question, which always hovers over the game. A further advantage of this game is: No matter how big the group is, everyone can take part and no one needs to be bored.
How to play catch?
The rules are very simple and can be changed at will. In its basic form, one player is the capturer while all others are to be caught. Once caught, the player has to leave the game. However, you could alter the game that way, so that every person caught, become a capturer himself. In this case, the game for the remaining not-yet-caught kids is becoming increasingly difficult, as there are more and more capturer.
What are the psychological benefits of catching games?
Besides a lot of fun, catching games have positive psychological effects as well. Children learn strategic thinking, to make quick decisions and in advance trying to put themselves in certain situations. And of course, children also learn also deal with defeat. They will recognize that the line between success and failures can be narrow and that you actually have to do something to succeed.
Conclusion: Catching games are fun and excitement pure! We could not think of a child who does not like to play catch. Also, the game can be modified and is never dull. Especially for larger groups and the outdoor area, catching games are great.
---
Catching games
[ © www.games4youthgroups.com ]