Trust Games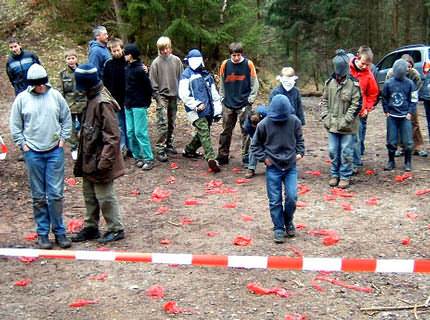 © www.games4youthgroups.com
Trust games usually make sense once the members of a group know each other a little better or when mutual trust and confidence in each other should be encouraged. Direct feedback, reflection on the games and the experiences can be done as a conclusion.
Trust games are an important factor when you playfully try to merge a group. This can happen as part of youth work, but also in the professional practice in terms of team building.
Many of these trust games have something to do with seeing or not seeing; it is about "blind trust". There are, for example, games in which a participant is blindfolded or gets a pair of specs with opaque glasses. Therefore, the person cannot see clearly any longer and depends on the other members to catch him before he falls. In this particular game, the "blind" person has to fall backwards, trusting that the other catch him before he hits the floor. In other games, the participants must lead a "blind" person through an obstacle course or alternatively, give correct instructions to the blind person to get through a maze. All these games are designed to trust statements and actions of other people. Particularly for children and adolescents, it is crucial to have confidence not only in their parents but also to their peers. To build this trust, the following games are excellent.
Confidence and Trust
Trust can show in a variety of forms. First of all, children should learn to build trust - i.e. to trust themselves in every possible situation. Everyone who has faith in oneself has it later in life - whether for business or pleasure - usually much easier. Confident people are not plagued by doubts or afflicted by depression. They proceed with courage and joy through life and, therefore, attract a lot of people.
By the way: If you can trust yourself, you are much more likely to trust others as well. That doesn't come as a surprise. You must be able to rely on your own judgement to assess somebody else. Someone doubting other people, ultimately, doubts himself.
Trust games are all games in which the participants' dependent on each other. This may be the case in sports, but also in games like the treasure hunt, etc. If the tasks were solved efficiently and timely, the participants will not just trust each other, but also themselves more after such a successful completion of the game.
Increase your trading currency knowledge and profitability using ForexFloor.com's currency trading guides.
[ © www.games4youthgroups.com ]