Puns and language games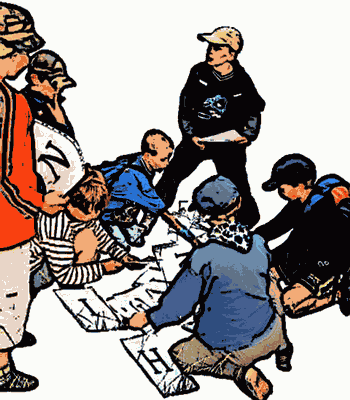 © www.games4youthgroups.com
Puns and language games, promote speech, concentration and spontaneity, as well as reaction and above all, are quite funny.
Learning words and language - how boring. Many children think that way. However, implementing the right word- and language games, children won't get bored at all but will learn without even realizing it.
Words and language games are particularly useful on rainy days and the group has to spend the entire afternoon in a sheltered space. This can fill actual dull times usefully and of course; fun doesn't have to fall short either.
What benefits do word and language games offer?
As the name suggests, word and language games are particularly useful for expanding one's vocabulary, to learn or deepen one owns language or learn a new one. They encourage creativity, no matter if it is the own or a foreign language while at the same time having a positive effect on the child's rhetoric. Quick-wittedness can be efficiently being trained with suitable games. A skill which for sure will pay off to have later on in life.
As you can see, word games are an ideal combination of fun and usefulness. They generally require little prep work, and also the use of materials is usually very manageable. A block, a pen - with these simple utensils countless word and language games can be played.
What other utensils can you use for word and language games?
Beyond the basic materials, you could use for example a card box with cards to write on. That will work well for varied and exciting word and language games. A blackboard and a flip chart can also be a valuable tool.
As with most other games, you should take great care that no one is overwhelmed with the implemented word and language games. The game has to be designed in a way that even the weakest participants can compete and gets a sense of achievement. Especially children who suffer from learning disabilities or dyslexia might be disadvantaged with those games. They need special consideration.
---
[ © www.games4youthgroups.com ]