Circle Games
Circle games are usually games played while sitting in a circle in which the whole group takes part. The main aspect is not competitive but having fun in the group. The games are mainly calm games which generally do not need materials or any large amount of preparation. During the summer months, you'll find that many kids are at summer camp playing these sorts of games.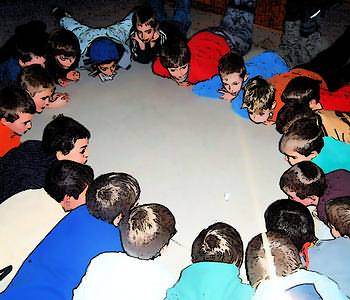 © www.games4youthgroups.com
Circle games are generally fun games which children largely like to play. Also, there are always several players active at the same time, so that no one needs to feel excluded. A nice side effect of circle games is that the players have fun, but no chaos breaks lose – something which can happen to a holiday group at times. Likewise, there is no "competitive behaviour" needed, which gives the games an easy touch. This makes those games not just ideal for home but also for the time spent away.
If you are traveling with several children, or the local kids want to make friends with the newcomers, those games literally offer themselves. Another excellent idea is, to open a "Detective Agency" with the children, with the incentive, so find something that was previously "stolen." – Just another game to keep a small and even a larger group of children busy.
Basically, such circle games make for a great "introductory help." Although these are not strictly speaking classic games to get to know each other, they are very easy to play, require little preparation and almost always promise a lot of "action." They quickly bring kids inhibitions and barriers to other group members down. After all, alone the sit- or standing order is arranged in a way so that children (the older ones as well) can see each other or look into each other's eyes.
One of the most famous circle games is repeatedly used for group participants to mutually introduce each other with their respective names. That makes it as easy as possible to remember those names, and all it requires is an object that the player can throw to each other. For example, this could be a ball or even a key chain.
The whole thing is very simple: The object is always thrown from one player to another. It is important that the thrower always calls out loud the name of the catcher. That will make it easy that in the shortest time possible, everybody can remember the name of all kids in the circle.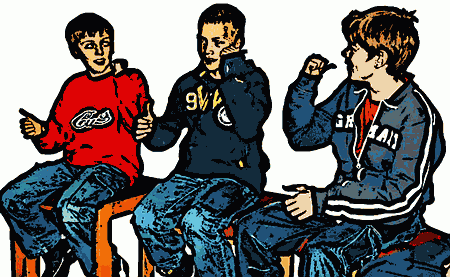 © www.games4youthgroups.com
Also, those circle games promote a certain intimacy within the group. The mere fact that you are practically sitting across someone else, virtually eye to eye creates a sense of familiarity. It is to no surprise that self-help groups always refer back to the formation of circles when it comes to discussing controversial issues. Everyone can talk to anybody else while creating eye contact at the same time. You also can follow the person's facial expressions and gestures, which makes everybody more comfortable than sitting in rows.
Basically, circle games are perfect for everything that has to be passed around or thrown to each other. Within a circle, nobody has the feeling to be outside the group and therefore, maybe got a worse seat than somebody else. A psychological effect, which should not be underestimated. Circle games are therefore ideally suited for working with shy, insecure children and adolescents. Likewise, new members of a group that should be optimally integrated can effectively be helped with circle games. On this website, you will find a wide selection of different circle games that are suitable for small as well as large groups of children and young people.
[ © www.games4youthgroups.com ]