Game ideas for relay games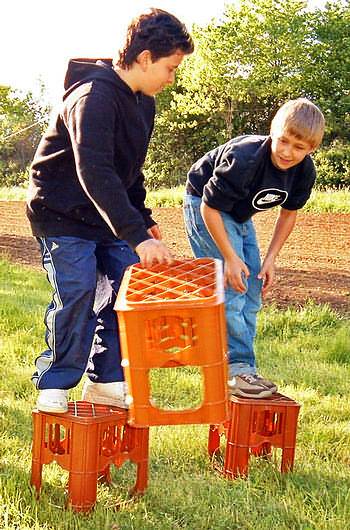 © www.games4youthgroups.com
Relay games are also racy games. These game ideas for relay races can be easily played in a sports hall or on the grass. Creating some vinyl banners to let everyone know where the start and finish areas are would be a great idea. Some games also require water.
Relay games can be played in their classic version on a racetrack with a piece of wood. At children's birthday parties they can also be altered, depending on the weather. For example, when played inside, instead of a baton kids can transport a duvet. If you play in an apartment, the different rooms represent various stages of the race. Each team has to circumvent the room with the duvet. Winter blankets or emergency blankets, just as those used by the Red Cross have proved themselves suitable in the past. (See also under games with blankets). If the weather is great, of course, those games can be played outside just as well. Particularly for children, those relay games are particularly interesting and entertaining. The objective is that a wooden baton is carried from the starting- to the finishing line and then passed on to the next player. The team who is first through all players wins. The idea is that you not only have to be fast but to develop a workable tactic within the team as well. For girls, it is recommended to tie or up do their hair so that nobody gets caught in it and it still looks great after the game is finished
What is the attraction of Relay Games?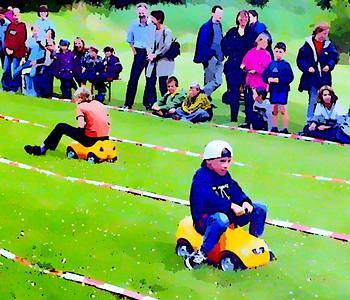 © www.games4youthgroups.com
Relay games are more than what we commonly know from sport and athletics. Relay game is a preamble for all games with different stations, which have to be completed in succession. The great thing about those relay games is that most children and young people can participate, regardless of the individual's constitution. Provided the group is well mixed and put together carefully, even the younger or weaker kids won't fall short.
Season games are very suitable for children's parties, parties, camps, etc., in other words, for all festivities, where there are many children at different ages participating. With a little imagination, you can modify existing relay games to existing requirements or the wishes of the participants.
Only few accessories are required for relay games. However, you need to take into consideration, that you might need several of those items at the same time. Therefore, it is crucial, to consider wisely which items you are going to use.
[ © www.games4youthgroups.com ]