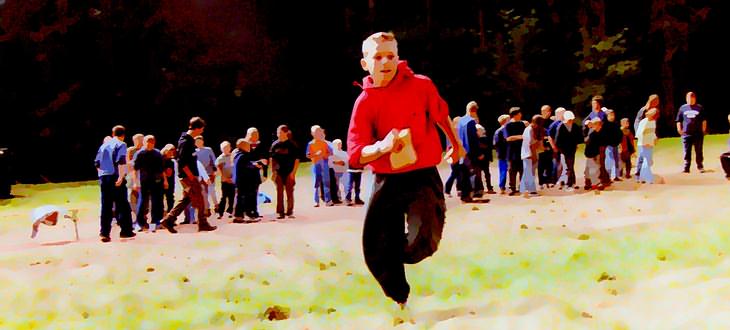 © www.games4youthgroups.com
Games with sponges and foam blocks
Sponges and other toys made of foam have the advantage; they can be used over and over again and virtually are indestructible. Game elements made from foam can already be crafted in a group afternoon. All you need are a few old mattresses and then, the kids can cut out different shapes you might need for other games. The possibilities are limitless. The game ideas can start by cleaning objects as quickly as possible with a sponge, the famous sponge battle or to defend one's field. You can either shoot down as many as possible "enemies" or try to get as many as possible sponges into the other field.
Games with Brooms
Even with one or two brooms you can come up with some exciting games for a group afternoon. However, if you think about a relay race, you might need a few more objects. Brooms can be used from the relay race to the javelin throwing and most certainly, brooms are great for all balancing games. This will promote the sense of balance of kids. However, the team leader is advised to take good care that no one gets hurt. Another thing to consider is that the broom handle is made from wood and therefore is likely to break. Make sure, whenever you think of broom games to have a few spare ones just in case.
Games with Ladders
For the common ladder game, you will need one or more ladders. However, this kind of games is more for older kids because almost always are a bit challenging. In addition, the team leader must secure the ladders safely, because the risk of injury is relatively big. Those risks are the greatest in various climbing games where the kids have to complete certain tasks, such as crawl in and out between the rungs like a serpentine at the same time. However, the ladder does not necessarily be secured to the ground. The ladder could be suspended from a tree just as well. This, of course, makes the game much more difficult.
Games with Blankets
Smaller games can be carried out with old blankets, towels and bath towels. The great advantage of this is that the blankets and towels can be used both indoors and outdoors. For example, all kids have to stand on one towel. If that works well, then the towel is folded in half. Best you use towels and blankets which still have a bit of life in them and do not fall apart at the feet of the kids. Towels and blankets can easily be used for all kind of guessing games.


© www.games4youthgroups.com
Games with a Parachute
One parachute might be sufficient to keep an entire group of kids and young people entertained for an afternoon. However, obtaining a parachute is not that easy. If you really can't get hold of a parachute, a big blanket or tarp will do. With those games, kids need to support each other to solve tasks. For example, making waves with a blanket. Whenever kids are embarking on games with a parachute, never leave them unsupervised. It is important that no kids get completely wrapped up in the parachute.
[ © www.games4youthgroups.com ]