Games with hay bales, clothespins or Frisees
Games with hay bales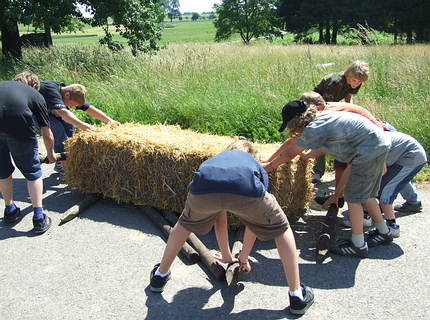 Games with hay bales
© www.games4youthgroups.com
Today this experience has become exceedingly rare, but adults still recall from their childhood many ways to play with straw. As children, they maybe had the opportunity of meeting up with friends and have a sleepover in the hay barn, followed by a funny straw battle in the morning. Sometimes they would dig tunnels into it, or jumped from the upper floor of a barn into the hey – even though, both are not quite harmless games. Even today, many adults use straw on very special occasions. For example, when they want to play a trick on their friend's wedding and barricade the door with straw bales.
However, even in the youth group, games with straw can be a lot of fun. These include several game streets or station décor at station sets. If you want to try one of the following games ideas, you can ask a farmer if he has a few bales of hay available. However, you should remember to keep a few spare bales. The reason: During the wild romp of children or the engagement of a large group of young people, hay bales can quite quickly disintegrate and therefore must be replaced.
---
Hay-Bale Games
Clothespin-Games
Cloth pins are low cost and make for excellent crafting material. For this purpose, you don't need more than one 100-packet of cloth pins. You can get them easily in every supermarket or hardware stores. Because pegs are relatively small and delicate items, they are great to train the fine motor skills of children. Because a packet of cloth pins usually offers various colours, you can use them for counting, arithmetic or other games you can think of. Otherwise, with cloth pins, there is nolimit to the gaming ideas you could come up. Alternatively, they can be used as a fashion assessor or to "stitch" to kids together.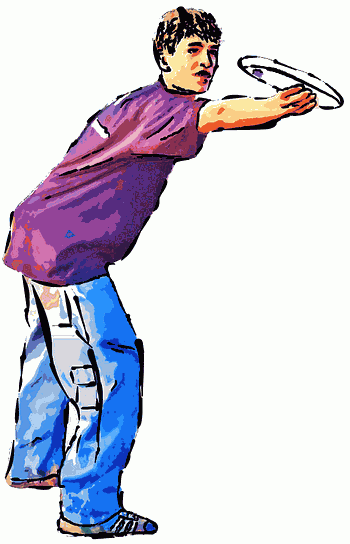 Frisbee games
© www.games4youthgroups.com
Frisbee games
The Frisbee has long since become an indispensable device in almost every teen's bedroom. However, with the Frisbee, you can create excellent programme items for children's and youth camps. Of course, the summer months are best suited when large sandy or lawn areas are available. However, games with the Frisbee can be well integrated throughout the year.
Another positive effect: Frisbee games can be designed in a way so that they correspond to the respective skills of the participants. For example, if the throwing or catching technique is not refined yet, you can create fun games to strengthen these areas. If the amateur athletes play at a higher level, Frisbee games can be competitive and serve well for the Frisbee Olympics.
Also, there are no age restrictions for the Frisbee game. And in addition, there are Frisbees in different sizes and special designs, so that you can take your Frisbee to the outdoor pool or even in the ocean.
[ © www.games4youthgroups.com ]