Games with Marbles
Marbles are among the oldest toys for children. These days they are very cheaply to obtain and can be nicely integrated into an afternoon of game playing. Besides the classic marble game, the team leader can use those colourful glass marbles to organise a treasure hunt or encourage the participants to use the marbles for bargaining. Younger children learn this the principle of bartering and learn that any object may have a different value for others. This will teach them to compromise. However, there are many other games you could play such as Marble Cones, where one marble always has to hit another marble. Or playing the marbles in a way that they are nudged into a goal. These are but a few games for the group afternoon.
Games with Spoons
Even ordinary spoons that can be found in every household are suitable for exciting games. Because of its shape, spoons are about predestined to various skill games. Of course, the classic egg and spoon race is almost a must. The idea hereby is, to bring an egg to a certain destination. However, with a little fantasy you can also come up with some nifty sports activities. Spoons, virtually offer themselves for hurling objects or for spinning them. Generally, this will train the fine motor skills of children and young people playfully. You can of course, invent your own skills games. For example, everybody receives a spoon, puts the handle in the mouth and then collects candies with it.
Games with Toilet-Paper
Toilet paper game night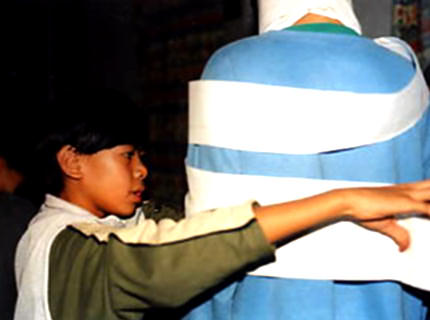 Toilet paper mummy
© www.games4youthgroups.com
Toilet paper actually belongs to the essential equipment in every household. Because it is just readily and usually always available, toilet paper is also ideal for a variety of games to fill an entire evening. Although some of the proposed games can be played exclusively outdoors, they are also excellent to play in a gym or in the group room.
This is exactly why toilet paper games are such a popular choice as a program item for the cold season - between late autumn and spring, when it is too cold for the young people to go outside to play. With only a few rolls of toilet paper, you can have a lot of fun all afternoon.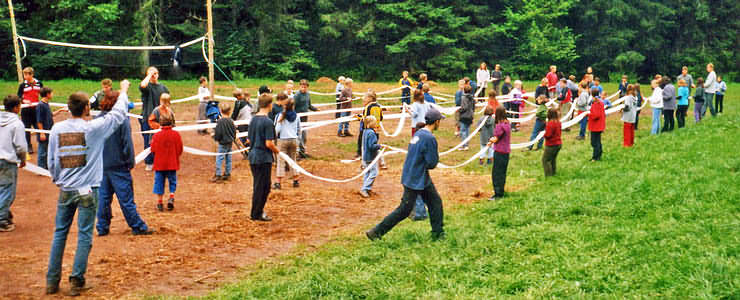 Toilet paper game
© www.games4youthgroups.com
Games with bouncing-ball or table-tennis-ball
Even with simple objects such as table tennis balls and cotton wool, you can come up with creative game ideas. The advantage: Those materials are almost always already in the toy box, just waiting to be taken out. Table tennis balls are ideal for several skill teaching games. Such as transporting a table tennis ball on a spoon through an obstacle course. Even in combination with cotton wool, this game is great when, for example, a ball of cotton wool must be blown through an obstacle course. And when the game is over, and a winner is determined, the rest of the cotton wool balls can be used for a dry "snowball" fight
Games with Plastic-Cups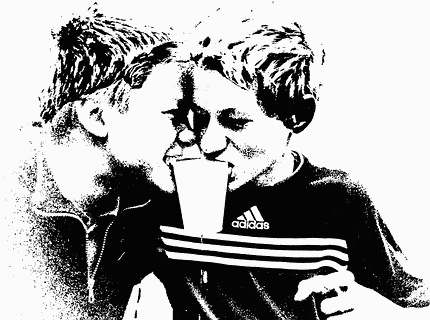 Passing on a cup with your mouth
© www.games4youthgroups.com
Disposable tableware like plastic cups are convenient and cheap. Therefore, they should not be missing in any household. And the best part: With plastic cups, many different games ideas can be implemented. In most cases it does not matter whether it is a disposable plastic cup or a more stable cup. Both can be used several times. With both variations, you can have great fun.
However, they not only provide great fun, but they also bear an educational effect: Thus, these games, require skills, such as a sense of balance, endurance, and fine motor skills. Therefore, the featured games are suitable not only for a birthday party but also for a group afternoon.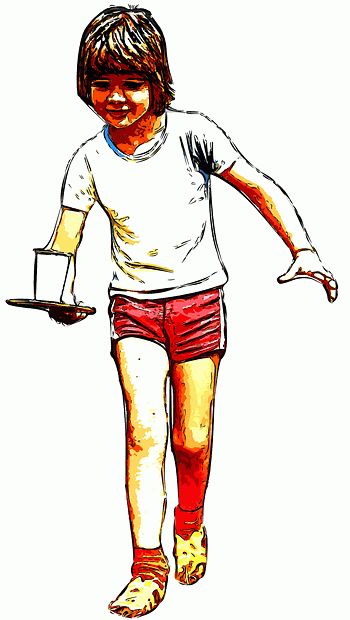 Participants must carry a cup on a table tennis racket.
© www.games4youthgroups.com
[ © www.games4youthgroups.com ]